Straight Shanks for Female Cap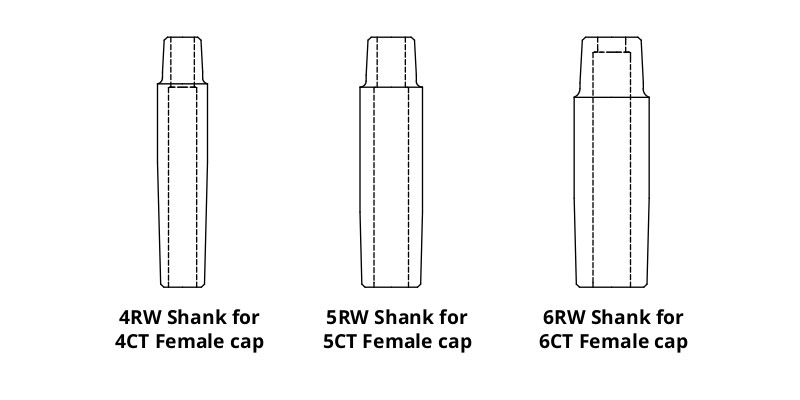 Straight Shanks for Female Caps are a cost effective way to utilize caps on any standard rocker arm, press type, robot or bench mounted machine. The shank has a water hole through the entire part to ensure the cap is properly cooled.
The combination of shanks and caps are an economical way to reduce the tooling cost for an application because a cap tip is cheaper than a standard straight or double bend electrode.
It is recommended that a standard or double bend electrode is selected when spot welding heavily coated metals such as galvanized or tin-plate.
| Part | Description | RWMA Material Type | RWMA Base Taper | RWMA Cap Taper | Overall Length | Outer Diameter | Inner Diameter | Assembled Length | Unit of Measure |
| --- | --- | --- | --- | --- | --- | --- | --- | --- | --- |
| 163-2616 | TP-2616 SHANK (MW-1121-62) | RWMA Class 2 - C18200 | 6RW | 6RW Cap Taper | 4.00000 | 0.75000 | 0.50000 | 4.5000 | IN |
| 163-2518 | TP-2518 SHANK | RWMA Class 2 - C18200 | 5RW | 5RW Cap Taper | 4.50000 | 0.62500 | 0.37500 | 5.0000 | IN |
| 163-2520 | TP-2520 SHANK | RWMA Class 2 - C18200 | 5RW | 5RW Cap Taper | 5.00000 | 0.62500 | 0.37500 | 5.5000 | IN |
| 163-2522 | TP-2522 SHANK | RWMA Class 2 - C18200 | 5RW | 5RW Cap Taper | 5.50000 | 0.62500 | 0.37500 | 6.0000 | IN |
| 163-2524 | TP-2524 SHANK | RWMA Class 2 - C18200 | 5RW | 5RW Cap Taper | 6.00000 | 0.62500 | 0.37500 | 6.5000 | IN |
| 163-2606 | TP-2606 SHANK | RWMA Class 2 - C18200 | 6RW | 6RW Cap Taper | 1.50000 | 0.75000 | 0.50000 | 2.0000 | IN |
| 163-2607 | TP-2607 SHANK (MW-1121-53) | RWMA Class 2 - C18200 | 6RW | 6RW Cap Taper | 1.75000 | 0.75000 | 0.50000 | 2.2500 | IN |
| 163-2608 | TP-2608 SHANK (MW-1121-54) | RWMA Class 2 - C18200 | 6RW | 6RW Cap Taper | 2.00000 | 0.75000 | 0.50000 | 2.5000 | IN |
| 163-2609 | TP-2609 SHANK (MW-1121-55) | RWMA Class 2 - C18200 | 6RW | 6RW Cap Taper | 2.25000 | 0.75000 | 0.50000 | 2.7500 | IN |
| 163-2610 | TP-2610 SHANK (MW-1121-56) | RWMA Class 2 - C18200 | 6RW | 6RW Cap Taper | 2.50000 | 0.75000 | 0.50000 | 3.0000 | IN |
| 163-2611 | TP-2611 SHANK (MW-1121-57) | RWMA Class 2 - C18200 | 6RW | 6RW Cap Taper | 2.75000 | 0.75000 | 0.50000 | 3.2500 | IN |
| 163-2612 | TP-2612 SHANK (MW-1121-58) | RWMA Class 2 - C18200 | 6RW | 6RW Cap Taper | 3.00000 | 0.75000 | 0.50000 | 3.5000 | IN |
| 163-2613 | TP-2613 SHANK (MW-1121-59) | RWMA Class 2 - C18200 | 6RW | 6RW Cap Taper | 3.25000 | 0.75000 | 0.50000 | 3.7500 | IN |
| 163-2614 | TP-2614 SHANK (MW-1121-60) | RWMA Class 2 - C18200 | 6RW | 6RW Cap Taper | 3.50000 | 0.75000 | 0.50000 | 4.0000 | IN |
| 163-2615 | TP-2615 SHANK (MW-1121-61) | RWMA Class 2 - C18200 | 6RW | 6RW Cap Taper | 3.75000 | 0.75000 | 0.50000 | 4.2500 | IN |
| 163-2517 | TP-2517 SHANK | RWMA Class 2 - C18200 | 5RW | 5RW Cap Taper | 4.25000 | 0.62500 | 0.37500 | 4.7500 | IN |
| 163-2617 | TP-2617 SHANK (MW-1121-63) | RWMA Class 2 - C18200 | 6RW | 6RW Cap Taper | 4.25000 | 0.75000 | 0.50000 | 4.7500 | IN |
| 163-2619 | TP-2619 SHANK (MW-1121-65) | RWMA Class 2 - C18200 | 6RW | 6RW Cap Taper | 4.75000 | 0.75000 | 0.50000 | 5.2500 | IN |
| 163-3406 | TP-3406 SHANK (MW3-645-53) | RWMA Class 3 - C18000 | 4RW | 4RW Cap Taper | 1.50000 | 0.50000 | 0.28125 | 2.0000 | IN |
| 163-3407 | TP-3407 SHANK (MW3-645-54 | RWMA Class 3 - C18000 | 4RW | 4RW Cap Taper | 1.75000 | 0.50000 | 0.28125 | 2.2500 | IN |
| 163-3408 | TP-3408 SHANK (MW3-645-55) | RWMA Class 3 - C18000 | 4RW | 4RW Cap Taper | 2.00000 | 0.50000 | 0.28125 | 2.5000 | IN |
| 163-3409 | TP-3409 SHANK (MW3-645-56) | RWMA Class 3 - C18000 | 4RW | 4RW Cap Taper | 2.25000 | 0.50000 | 0.28125 | 2.7500 | IN |
| 163-3410 | TP-3410 SHANK (MW3-645-57) | RWMA Class 3 - C18000 | 4RW | 4RW Cap Taper | 2.50000 | 0.50000 | 0.28125 | 3.0000 | IN |
| 163-3411 | TP-3411 SHANK (MW3-645-58) | RWMA Class 3 - C18000 | 4RW | 4RW Cap Taper | 2.75000 | 0.50000 | 0.28125 | 3.2500 | IN |
| 163-3412 | TP-3412 SHANK (MW3-645-59) | RWMA Class 3 - C18000 | 4RW | 4RW Cap Taper | 3.00000 | 0.50000 | 0.28125 | 3.5000 | IN |
| 163-3414 | TP-3414 SHANK (MW3-645-61) | RWMA Class 3 - C18000 | 4RW | 4RW Cap Taper | 3.50000 | 0.50000 | 0.28125 | 4.0000 | IN |
| 163-3416 | TP-3416 SHANK (MW3-645-62) | RWMA Class 3 - C18000 | 4RW | 4RW Cap Taper | 4.00000 | 0.50000 | 0.28125 | 4.5000 | IN |
| 163-3508 | TP-3508 SHANK (WB1-2T3506) | RWMA Class 3 - C18000 | 5RW | 5RW Cap Taper | 2.00000 | 0.62500 | 0.37500 | 2.5000 | IN |
| 163-3509 | TP-3509 SHANK (WB1-2T3507) | RWMA Class 3 - C18000 | 5RW | 5RW Cap Taper | 2.25000 | 0.62500 | 0.37500 | 2.7500 | IN |
| 163-3510 | TP-3510 SHANK (WB1-2T3508) | RWMA Class 3 - C18000 | 5RW | 5RW Cap Taper | 2.50000 | 0.62500 | 0.37500 | 3.0000 | IN |
| 163-2422 | TP-2422 SHANK | RWMA Class 2 - C18200 | 4RW | 4RW Cap Taper | 5.50000 | 0.50000 | 0.28125 | 6.0000 | IN |
| 163-2406 | TP-2406 SHK (MW-645-53) | RWMA Class 2 - C18200 | 4RW | 4RW Cap Taper | 1.50000 | 0.50000 | 0.28125 | 2.0000 | IN |
| 163-2407 | TP-2407 SHANK (MW-645-54) | RWMA Class 2 - C18200 | 4RW | 4RW Cap Taper | 1.75000 | 0.50000 | 0.28125 | 2.2500 | IN |
| 163-2408 | TP-2408 SHANK (MW-645-55) | RWMA Class 2 - C18200 | 4RW | 4RW Cap Taper | 2.00000 | 0.50000 | 0.28125 | 2.5000 | IN |
| 163-2409 | TP-2409 SHANK (MW-645-56) | RWMA Class 2 - C18200 | 4RW | 4RW Cap Taper | 2.25000 | 0.50000 | 0.28125 | 2.7500 | IN |
| 163-2410 | TP-2410 SHANK (MW-645-57) | RWMA Class 2 - C18200 | 4RW | 4RW Cap Taper | 2.50000 | 0.50000 | 0.28125 | 3.0000 | IN |
| 163-2411 | TP-2411 SHANK (MW-645-58) | RWMA Class 2 - C18200 | 4RW | 4RW Cap Taper | 2.75000 | 0.50000 | 0.28125 | 3.2500 | IN |
| 163-2412 | TP-2412 SHANK (MW-645-59) | RWMA Class 2 - C18200 | 4RW | 4RW Cap Taper | 3.00000 | 0.50000 | 0.28125 | 3.5000 | IN |
| 163-2413 | TP-2413 SHANK | RWMA Class 2 - C18200 | 4RW | 4RW Cap Taper | 3.25000 | 0.50000 | 0.28125 | 3.7500 | IN |
| 163-2414 | TP-2414 SHANK (MW-645-61) | RWMA Class 2 - C18200 | 4RW | 4RW Cap Taper | 3.50000 | 0.50000 | 0.28125 | 4.0000 | IN |
| 163-2415 | TP-2415 SHANK | RWMA Class 2 - C18200 | 4RW | 4RW Cap Taper | 3.75000 | 0.50000 | 0.28125 | 4.2500 | IN |
| 163-2416 | TP-2416 SHANK (MW-645-62) | RWMA Class 2 - C18200 | 4RW | 4RW Cap Taper | 4.00000 | 0.50000 | 0.28125 | 4.5000 | IN |
| 163-2417 | TP-2417 SHANK | RWMA Class 2 - C18200 | 4RW | 4RW Cap Taper | 4.25000 | 0.50000 | 0.28125 | 4.7500 | IN |
| 163-2418 | TP-2418 SHANK (MW-645-63) | RWMA Class 2 - C18200 | 4RW | 4RW Cap Taper | 4.50000 | 0.50000 | 0.28125 | 5.0000 | IN |
| 163-2420 | TP-2420 SHANK | RWMA Class 2 - C18200 | 4RW | 4RW Cap Taper | 5.00000 | 0.50000 | 0.28125 | 5.5000 | IN |
| 163-2404 | TP-2404 SHK (MW-645-51) | RWMA Class 2 - C18200 | 4RW | 4RW Cap Taper | 1.00000 | 0.50000 | 0.28125 | 1.5000 | IN |
| 163-2424 | TP-2424 SHANK | RWMA Class 2 - C18200 | 4RW | 4RW Cap Taper | 6.00000 | 0.50000 | 0.28125 | 6.5000 | IN |
| 163-2506 | TP-2506 SHANK | RWMA Class 2 - C18200 | 5RW | 5RW Cap Taper | 1.50000 | 0.62500 | 0.37500 | 2.0000 | IN |
| 163-2507 | TP-2507 SHANK | RWMA Class 2 - C18200 | 5RW | 5RW Cap Taper | 1.75000 | 0.62500 | 0.37500 | 2.2500 | IN |
| 163-2508 | TP-2508 SHANK | RWMA Class 2 - C18200 | 5RW | 5RW Cap Taper | 2.00000 | 0.62500 | 0.37500 | 2.5000 | IN |
| 163-2508-BH | TP-2508-BH SHANK | RWMA Class 2 - C18200 | 5RW | 5RW Cap Taper | 2.00000 | 0.62500 | 0.37500 | 2.5000 | IN |
| 163-2509 | TP-2509 SHANK | RWMA Class 2 - C18200 | 5RW | 5RW Cap Taper | 2.25000 | 0.62500 | 0.37500 | 2.7500 | IN |
| 163-2510 | TP-2510 SHANK | RWMA Class 2 - C18200 | 5RW | 5RW Cap Taper | 2.50000 | 0.62500 | 0.37500 | 3.0000 | IN |
| 163-2511 | TP-2511 SHANK | RWMA Class 2 - C18200 | 5RW | 5RW Cap Taper | 2.75000 | 0.62500 | 0.37500 | 3.2500 | IN |
| 163-2512 | TP-2512 SHANK | RWMA Class 2 - C18200 | 5RW | 5RW Cap Taper | 3.00000 | 0.62500 | 0.37500 | 3.5000 | IN |
| 163-2513 | TP-2513 SHANK | RWMA Class 2 - C18200 | 5RW | 5RW Cap Taper | 3.25000 | 0.62500 | 0.37500 | 3.7500 | IN |
| 163-2514 | TP-2514 SHANK | RWMA Class 2 - C18200 | 5RW | 5RW Cap Taper | 3.50000 | 0.62500 | 0.37500 | 4.0000 | IN |
| 163-2515 | TP-2515 SHANK | RWMA Class 2 - C18200 | 5RW | 5RW Cap Taper | 3.75000 | 0.62500 | 0.37500 | 4.2500 | IN |
| 163-2516 | TP-2516 SHANK | RWMA Class 2 - C18200 | 5RW | 5RW Cap Taper | 4.00000 | 0.62500 | 0.37500 | 4.5000 | IN |