Straight Holders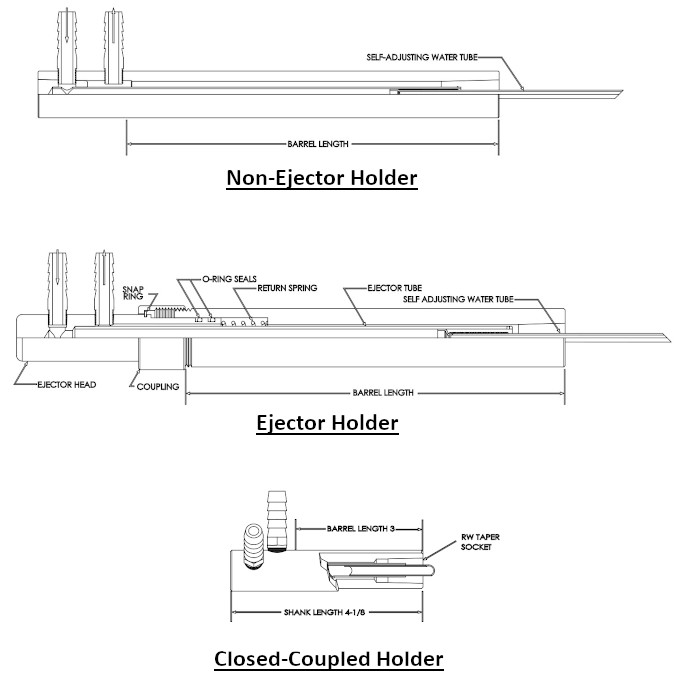 Straight holders or barrel holders have a simple design to minimize the maintenance costs for users. The holders have adjustable water tubes to maximize cooling of the tip which maximizes tip life. Straight holders are designed for use with Rocker Arm and Pedestal Type welders. Some of the holders are available with a replaceable threaded electrode adapter to extend the life of the holder.
The Goldspot Non-Ejector holders have a self adjusting watertube to ensure cooling reaches the tip.
The Goldcrown Ejector Style Straight Holder allows the user to quickly remove an electrode for quick change over or tip replacement.
The Nickel Plated Ejector Holders provide corrosion resistance and super conductivity.
The Closed-Couple design have the water hose barbs angled at 60 degrees for use when space is critical.
| Part | Description | RWMA Material Type | RMWA Taper | Holder Type | Barrel Length | Barrel Dia. | Unit of Measure | Ejector Type | Adapter Included | Nickel Plating | Angle Between Tubes (Closed Coupled) |
| --- | --- | --- | --- | --- | --- | --- | --- | --- | --- | --- | --- |
| 320-0385 | E-12086-A HOLDER | RWMA Class 2 | 6RW | Goldcrown Ejector | 8.00000 | 1.50000 | IN | Yes | Yes | No | |
| 319-0206 | NHE-08035 NICKEL HOLDER | RWMA Class 2 | 5RW | Nickel Plated Ejector | 3.00000 | 1.00000 | IN | Yes | No | Yes | |
| 319-0207 | NHE-10035 NICKEL HOLDER | RWMA Class 2 | 5RW | Nickel Plated Ejector | 3.00000 | 1.25000 | IN | Yes | No | Yes | |
| 319-0211 | NHE-06084 NICKEL HOLDER | RWMA Class 2 | 4RW | Nickel Plated Ejector | 8.00000 | 0.75000 | IN | Yes | No | Yes | |
| 319-0212 | NHE-07084 NICKEL HOLDER | RWMA Class 2 | 4RW | Nickel Plated Ejector | 8.00000 | 0.87500 | IN | Yes | No | Yes | |
| 319-0213 | NHE-08084 NICKEL HOLDER | RWMA Class 2 | 4RW | Nickel Plated Ejector | 8.00000 | 1.00000 | IN | Yes | No | Yes | |
| 319-0214 | NHE-10084 NICKEL HOLDER | RWMA Class 2 | 4RW | Nickel Plated Ejector | 8.00000 | 1.25000 | IN | Yes | No | Yes | |
| 319-0216 | NHE-08085 NICKEL HOLDER | RWMA Class 2 | 5RW | Nickel Plated Ejector | 8.00000 | 1.00000 | IN | Yes | No | Yes | |
| 319-0217 | NHE-10085 NICKEL HOLDER | RWMA Class 2 | 5RW | Nickel Plated Ejector | 8.00000 | 1.25000 | IN | Yes | No | Yes | |
| 319-0231 | NHE-06124 NICKEL HOLDER | RWMA Class 2 | 4RW | Nickel Plated Ejector | 12.00000 | 0.75000 | IN | Yes | No | Yes | |
| 319-0232 | NHE-07124 NICKEL HOLDER | RWMA Class 2 | 4RW | Nickel Plated Ejector | 12.00000 | 0.87500 | IN | Yes | No | Yes | |
| 319-0233 | NHE-08124 NICKEL HOLDER | RWMA Class 2 | 4RW | Nickel Plated Ejector | 12.00000 | 1.00000 | IN | Yes | No | Yes | |
| 319-0234 | NHE-10124 NICKEL HOLDER | RWMA Class 2 | 4RW | Nickel Plated Ejector | 12.00000 | 1.25000 | IN | Yes | No | Yes | |
| 319-0236 | NHE-08125 NICKEL HOLDER | RWMA Class 2 | 5RW | Nickel Plated Ejector | 12.00000 | 1.00000 | IN | Yes | No | Yes | |
| 319-0237 | NHE-10125 NICKEL HOLDER | RWMA Class 2 | 5RW | Nickel Plated Ejector | 12.00000 | 1.25000 | IN | Yes | No | Yes | |
| 320-0100 | E-05084 HOLDER | RWMA Class 2 | 4RW | Goldcrown Ejector | 8.00000 | 0.62500 | IN | Yes | No | No | |
| 320-0120 | E-05124 HOLDER | RWMA Class 2 | 4RW | Goldcrown Ejector | 12.00000 | 0.62500 | IN | Yes | No | No | |
| 320-0140 | E-06084 HOLDER | RWMA Class 2 | 4RW | Goldcrown Ejector | 8.00000 | 0.75000 | IN | Yes | No | No | |
| 320-0150 | E-06085 HOLDER | RWMA Class 2 | 5RW | Goldcrown Ejector | 8.00000 | 0.75000 | IN | Yes | No | No | |
| 320-0160 | E-06124 HOLDER | RWMA Class 2 | 4RW | Goldcrown Ejector | 12.00000 | 0.75000 | IN | Yes | No | No | |
| 320-0170 | E-06125 HOLDER | RWMA Class 2 | 5RW | Goldcrown Ejector | 12.00000 | 0.75000 | IN | Yes | No | No | |
| 320-0180 | E-07084 HOLDER | RWMA Class 2 | 4RW | Goldcrown Ejector | 8.00000 | 0.87500 | IN | Yes | No | No | |
| 320-0190 | E-07085 HOLDER | RWMA Class 2 | 5RW | Goldcrown Ejector | 8.00000 | 0.87500 | IN | Yes | No | No | |
| 320-0200 | E-07124 HOLDER | RWMA Class 2 | 4RW | Goldcrown Ejector | 12.00000 | 0.87500 | IN | Yes | No | No | |
| 320-0210 | E-07125 HOLDER | RWMA Class 2 | 5RW | Goldcrown Ejector | 12.00000 | 0.87500 | IN | Yes | No | No | |
| 320-0220 | E-08084 HOLDER | RWMA Class 2 | 4RW | Goldcrown Ejector | 8.00000 | 1.00000 | IN | Yes | No | No | |
| 320-0225 | E-08084-A HOLDER | RWMA Class 2 | 4RW | Goldcrown Ejector | 8.00000 | 1.00000 | IN | Yes | Yes | No | |
| 320-0230 | E-08085 HOLDER | RWMA Class 2 | 5RW | Goldcrown Ejector | 8.00000 | 1.00000 | IN | Yes | No | No | |
| 320-0235 | E-08085-A HOLDER | RWMA Class 2 | 5RW | Goldcrown Ejector | 8.00000 | 1.00000 | IN | Yes | Yes | No | |
| 320-0240 | E-08086 HOLDER | RWMA Class 2 | 6RW | Goldcrown Ejector | 8.00000 | 1.00000 | IN | Yes | No | No | |
| 320-0250 | E-08124 HOLDER | RWMA Class 2 | 4RW | Goldcrown Ejector | 12.00000 | 1.00000 | IN | Yes | No | No | |
| 320-0255 | E-08124-A HOLDER | RWMA Class 2 | 4RW | Goldcrown Ejector | 12.00000 | 1.00000 | IN | Yes | Yes | No | |
| 320-0260 | E-08125 HOLDER | RWMA Class 2 | 5RW | Goldcrown Ejector | 12.00000 | 1.00000 | IN | Yes | No | No | |
| 320-0265 | E-08125-A HOLDER | RWMA Class 2 | 5RW | Goldcrown Ejector | 12.00000 | 1.00000 | IN | Yes | Yes | No | |
| 320-0270 | E-08126 HOLDER | RWMA Class 2 | 6RW | Goldcrown Ejector | 12.00000 | 1.00000 | IN | Yes | No | No | |
| 320-0280 | E-10084 HOLDER | RWMA Class 2 | 4RW | Goldcrown Ejector | 8.00000 | 1.25000 | IN | Yes | No | No | |
| 320-0285 | E-10084 A HOLDER | RWMA Class 2 | 5RW | Goldcrown Ejector | 8.00000 | 1.25000 | IN | Yes | Yes | No | |
| 320-0290 | E-10085 HOLDER | RWMA Class 2 | 5RW | Goldcrown Ejector | 8.00000 | 1.25000 | IN | Yes | No | No | |
| 320-0295 | E-10085-A HOLDER | RWMA Class 2 | 5RW | Goldcrown Ejector | 8.00000 | 1.25000 | IN | Yes | Yes | No | |
| 320-0300 | E-10086 HOLDER | RWMA Class 2 | 6RW | Goldcrown Ejector | 8.00000 | 1.25000 | IN | Yes | No | No | |
| 320-0310 | E-10087 HOLDER | RWMA Class 2 | 7RW | Goldcrown Ejector | 8.00000 | 1.25000 | IN | Yes | No | No | |
| 320-0320 | E-10124 HOLDER | RWMA Class 2 | 4RW | Goldcrown Ejector | 12.00000 | 1.25000 | IN | Yes | No | No | |
| 320-0325 | E-10124-A HOLDER | RWMA Class 2 | 4RW | Goldcrown Ejector | 12.00000 | 1.25000 | IN | Yes | Yes | No | |
| 320-0330 | E-10125 HOLDER | RWMA Class 2 | 5RW | Goldcrown Ejector | 12.00000 | 1.25000 | IN | Yes | No | No | |
| 320-0335 | E-10125 A HOLDER | RWMA Class 2 | 5RW | Goldcrown Ejector | 12.00000 | 1.25000 | IN | Yes | Yes | No | |
| 320-0340 | E-10126 HOLDER | RWMA Class 2 | 6RW | Goldcrown Ejector | 12.00000 | 1.25000 | IN | Yes | No | No | |
| 320-0350 | E-10127 HOLDER | RWMA Class 2 | 7RW | Goldcrown Ejector | 12.00000 | 1.25000 | IN | Yes | No | No | |
| 320-0360 | E-12084 HOLDER | RWMA Class 2 | 4RW | Goldcrown Ejector | 8.00000 | 1.50000 | IN | Yes | No | No | |
| 320-0365 | E-12084-A HOLDER | RWMA Class 2 | 4RW | Goldcrown Ejector | 8.00000 | 1.50000 | IN | Yes | Yes | No | |
| 320-0370 | E-12085 HOLDER | RWMA Class 2 | 5RW | Goldcrown Ejector | 8.00000 | 1.50000 | IN | Yes | No | No | |
| 320-0375 | E-12085-A HOLDER | RWMA Class 2 | 5RW | Goldcrown Ejector | 8.00000 | 1.50000 | IN | Yes | Yes | No | |
| 320-0380 | E-12086 HOLDER | RWMA Class 2 | 6RW | Goldcrown Ejector | 8.00000 | 1.50000 | IN | Yes | No | No | |
| 320-0390 | E-12087 HOLDER | RWMA Class 2 | 7RW | Goldcrown Ejector | 8.00000 | 1.50000 | IN | Yes | No | No | |
| 320-0410 | E-12124 HOLDER | RWMA Class 2 | 4RW | Goldcrown Ejector | 12.00000 | 1.50000 | IN | Yes | No | No | |
| 320-0415 | E-12124-A HOLDER | RWMA Class 2 | 4RW | Goldcrown Ejector | 12.00000 | 1.50000 | IN | Yes | Yes | No | |
| 320-0420 | E-12125 HOLDER | RWMA Class 2 | 5RW | Goldcrown Ejector | 12.00000 | 1.50000 | IN | Yes | No | No | |
| 320-0425 | E-12125-A HOLDER | RWMA Class 2 | 5RW | Goldcrown Ejector | 12.00000 | 1.50000 | IN | Yes | Yes | No | |
| 320-0440 | E-12126 HOLDER | RWMA Class 2 | 6RW | Goldcrown Ejector | 12.00000 | 1.50000 | IN | Yes | No | No | |
| 320-0450 | E-12127 HOLDER | RWMA Class 2 | 7RW | Goldcrown Ejector | 12.00000 | 1.50000 | IN | Yes | No | No | |
| 320-1000 | LDE-08064 HOLDER | RWMA Class 2 | 4RW | Goldcrown Ejector | 6.00000 | 1.00000 | IN | Yes | No | No | |
| 320-1005 | LDE-08065 HOLDER | RWMA Class 2 | 5RW | Goldcrown Ejector | 6.00000 | 1.00000 | IN | Yes | No | No | |
| 325-0100 | N-05084 HOLDER | RWMA Class 2 | 4RW | Goldspot Non-Ejector | 8.00000 | 0.62500 | IN | No | No | No | |
| 325-0120 | N-05124 HOLDER | RWMA Class 2 | 4RW | Goldspot Non-Ejector | 12.00000 | 0.62500 | IN | No | No | No | |
| 325-0140 | N-06084 HOLDER | RWMA Class 2 | 4RW | Goldspot Non-Ejector | 8.00000 | 0.75000 | IN | No | No | No | |
| 325-0150 | N-06085 HOLDER | RWMA Class 2 | 5RW | Goldspot Non-Ejector | 8.00000 | 0.75000 | IN | No | No | No | |
| 325-0160 | N-06124 HOLDER | RWMA Class 2 | 4RW | Goldspot Non-Ejector | 12.00000 | 0.75000 | IN | No | No | No | |
| 325-0170 | N-06125 HOLDER | RWMA Class 2 | 5RW | Goldspot Non-Ejector | 12.00000 | 0.75000 | IN | No | No | No | |
| 325-0180 | N-07084 HOLDER | RWMA Class 2 | 4RW | Goldspot Non-Ejector | 8.00000 | 0.87500 | IN | No | No | No | |
| 325-0190 | N-07085 HOLDER | RWMA Class 2 | 5RW | Goldspot Non-Ejector | 8.00000 | 0.87500 | IN | No | No | No | |
| 325-0200 | N-07124 HOLDER | RWMA Class 2 | 4RW | Goldspot Non-Ejector | 12.00000 | 0.87500 | IN | No | No | No | |
| 325-0210 | N-07125 HOLDER | RWMA Class 2 | 5RW | Goldspot Non-Ejector | 12.00000 | 0.87500 | IN | No | No | No | |
| 325-0220 | N-08084 HOLDER | RWMA Class 2 | 4RW | Goldspot Non-Ejector | 8.00000 | 1.00000 | IN | No | No | No | |
| 325-0225 | N-08084-A HOLDER | RWMA Class 2 | 4RW | Goldspot Non-Ejector | 8.00000 | 1.00000 | IN | No | Yes | No | |
| 325-0230 | N-08085 HOLDER | RWMA Class 2 | 5RW | Goldspot Non-Ejector | 8.00000 | 1.00000 | IN | No | No | No | |
| 325-0235 | N-08085-A HOLDER | RWMA Class 2 | 5RW | Goldspot Non-Ejector | 8.00000 | 1.00000 | IN | No | Yes | No | |
| 325-0240 | N-08086 HOLDER | RWMA Class 2 | 6RW | Goldspot Non-Ejector | 8.00000 | 1.00000 | IN | No | No | No | |
| 325-0250 | N-08124 HOLDER | RWMA Class 2 | 4RW | Goldspot Non-Ejector | 12.00000 | 1.00000 | IN | No | No | No | |
| 325-0255 | N-08124-A HOLDER | RWMA Class 2 | 4RW | Goldspot Non-Ejector | 12.00000 | 1.00000 | IN | No | Yes | No | |
| 325-0260 | N-08125 HOLDER | RWMA Class 2 | 5RW | Goldspot Non-Ejector | 12.00000 | 1.00000 | IN | No | No | No | |
| 325-0265 | N-08125-A HOLDER | RWMA Class 2 | 5RW | Goldspot Non-Ejector | 12.00000 | 1.00000 | IN | No | Yes | No | |
| 325-0270 | N-08126 HOLDER | RWMA Class 2 | 6RW | Goldspot Non-Ejector | 12.00000 | 1.00000 | IN | No | No | No | |
| 325-0280 | N-10084 HOLDER | RWMA Class 2 | 4RW | Goldspot Non-Ejector | 8.00000 | 1.25000 | IN | No | No | No | |
| 325-0285 | N-10084-A HOLDER | RWMA Class 2 | 4RW | Goldspot Non-Ejector | 8.00000 | 1.25000 | IN | No | Yes | No | |
| 325-0290 | N-10085 HOLDER | RWMA Class 2 | 5RW | Goldspot Non-Ejector | 8.00000 | 1.25000 | IN | No | No | No | |
| 325-0295 | N-10085-A HOLDER | RWMA Class 2 | 5RW | Goldspot Non-Ejector | 8.00000 | 1.25000 | IN | No | Yes | No | |
| 325-0300 | N-10086 HOLDER | RWMA Class 2 | 6RW | Goldspot Non-Ejector | 8.00000 | 1.25000 | IN | No | No | No | |
| 325-0310 | N-10087 HOLDER | RWMA Class 2 | 7RW | Goldspot Non-Ejector | 8.00000 | 1.25000 | IN | No | No | No | |
| 325-0315 | N-10087-A HOLDER | RWMA Class 2 | 7RW | Goldspot Non-Ejector | 8.00000 | 1.25000 | IN | No | Yes | No | |
| 325-0320 | N-10124 HOLDER | RWMA Class 2 | 4RW | Goldspot Non-Ejector | 12.00000 | 1.25000 | IN | No | No | No | |
| 325-0325 | N-10124-A HOLDER | RWMA Class 2 | 4RW | Goldspot Non-Ejector | 12.00000 | 1.25000 | IN | No | Yes | No | |
| 325-0330 | N-10125 HOLDER | RWMA Class 2 | 5RW | Goldspot Non-Ejector | 12.00000 | 1.25000 | IN | No | No | No | |
| 325-0335 | N-10125-A HOLDER | RWMA Class 2 | 5RW | Goldspot Non-Ejector | 12.00000 | 1.25000 | IN | No | Yes | No | |
| 325-0340 | N-10126 HOLDER | RWMA Class 2 | 6RW | Goldspot Non-Ejector | 12.00000 | 1.25000 | IN | No | No | No | |
| 325-0350 | N-10127 HOLDER | RWMA Class 2 | 7RW | Goldspot Non-Ejector | 12.00000 | 1.25000 | IN | No | No | No | |
| 325-0360 | N-12084 HOLDER | RWMA Class 2 | 4RW | Goldspot Non-Ejector | 8.00000 | 1.50000 | IN | No | No | No | |
| 325-0365 | N-12084-A HOLDER | RWMA Class 2 | 4RW | Goldspot Non-Ejector | 8.00000 | 1.50000 | IN | No | Yes | No | |
| 325-0370 | N-12085 HOLDER | RWMA Class 2 | 5RW | Goldspot Non-Ejector | 8.00000 | 1.50000 | IN | No | No | No | |
| 325-0375 | N-12085-A HOLDER | RWMA Class 2 | 5RW | Goldspot Non-Ejector | 8.00000 | 1.50000 | IN | No | Yes | No | |
| 325-0380 | N-12086 HOLDER | RWMA Class 2 | 6RW | Goldspot Non-Ejector | 8.00000 | 1.50000 | IN | No | No | No | |
| 325-0385 | N-12086-A HOLDER | RWMA Class 2 | 6RW | Goldspot Non-Ejector | 8.00000 | 1.50000 | IN | No | Yes | No | |
| 325-0390 | N-12087 HOLDER | RWMA Class 2 | 7RW | Goldspot Non-Ejector | 8.00000 | 1.50000 | IN | No | No | No | |
| 325-0410 | N-12124 HOLDER | RWMA Class 2 | 4RW | Goldspot Non-Ejector | 12.00000 | 1.50000 | IN | No | No | No | |
| 325-0420 | N-12125 HOLDER | RWMA Class 2 | 5RW | Goldspot Non-Ejector | 12.00000 | 1.50000 | IN | No | No | No | |
| 325-0425 | N-12125-A HOLDER | RWMA Class 2 | 5RW | Goldspot Non-Ejector | 12.00000 | 1.50000 | IN | No | Yes | No | |
| 325-0440 | N-12126 HOLDER | RWMA Class 2 | 6RW | Goldspot Non-Ejector | 12.00000 | 1.50000 | IN | No | No | No | |
| 325-0450 | N-12127 HOLDER | RWMA Class 2 | 7RW | Goldspot Non-Ejector | 12.00000 | 1.50000 | IN | No | No | No | |
| 330-0140 | N-06034 HOLDER | RWMA Class 2 | 4RW | Closed-Coupled | 3.00000 | 0.75000 | IN | No | No | No | 60 degrees |
| 330-0180 | N-07034 HOLDER | RWMA Class 2 | 4RW | Closed-Coupled | 3.00000 | 0.87500 | IN | No | No | No | 60 degrees |
| 330-0190 | N-07035 HOLDER | RWMA Class 2 | 5RW | Closed-Coupled | 3.00000 | 0.87500 | IN | No | No | No | 60 degrees |
| 330-0220 | N-08034 HOLDER | RWMA Class 2 | 4RW | Closed-Coupled | 3.00000 | 1.00000 | IN | No | No | No | 60 degrees |
| 330-0230 | N-08035 HOLDER | RWMA Class 2 | 5RW | Closed-Coupled | 3.00000 | 1.00000 | IN | No | No | No | 60 degrees |
| 330-0280 | N-10034 HOLDER | RWMA Class 2 | 4RW | Closed-Coupled | 3.00000 | 1.25000 | IN | No | No | No | 60 degrees |
| 330-0290 | N-10035 HOLDER | RWMA Class 2 | 5RW | Closed-Coupled | 3.00000 | 1.25000 | IN | No | No | No | 60 degrees |
| 330-0360 | N-12034 HOLDER | RWMA Class 2 | 4RW | Closed-Coupled | 3.00000 | 1.50000 | IN | No | No | No | 60 degrees |
| 330-0370 | N-12035 HOLDER | RWMA Class 2 | 5RW | Closed-Coupled | 3.00000 | 1.50000 | IN | No | No | No | 60 degrees |